At
Art's Countertops
we supply a wide variety of sinks and faucets. Our most popular brands are Blanco and Kindred. These will be brought with the countertops and installed at the same time, saving the extra expense and hassle of having to arrange a plumber.
Durable:
Stainless steel sinks won't chip, crack or dent very easily, making them a great option when choosing a sink that will last for an extended period of time. They can withstand hot pots and pans being placed in them, and better-quality stainless steel will not tarnish or stain.
Design appeal: Stainless steel sinks provide a timeless look in your kitchen. They are always stylish and look great with many different design styles — from a more modern kitchen to a traditional look, a stainless steel sink will blend in seamlessly with the rest of your kitchen.
Affordable:
Stainless steel sinks are a budget-friendly option. They come in a wide range of options from very affordable standard-sized sinks to more expensive deeper bowls that have built-in functions, such as strainers
Sanitary: Choosing a stainless steel sink means choosing a sink that will require less maintenance than other sinks. Stainless steel is a non-porous material, which means that it won't harbour bacteria and cleaning is easily done with mild detergents. Using harsh chemicals could scratch the sink, so be sure to choose a mild cleanser to keep your sink looking brand new.
A beautiful, durable, and reasonably priced sink option – and one that compliments most countertop materials is granite composite.  Granite composite, typically made of 80% granite mixed with 20% acrylic resin, looks and feels like natural stone (except more uniform) at a much more affordable cost.
Granite composite is available in dozens of shapes, sizes, configurations, colors, and matte finishes enhancing every kitchen imaginable.
Heat resistant; will not fade or discolor when exposed to high heat.
Resists scratching, acid, chipping, water spots, and staining.
Abundant matte color options.
Long life with the look and durability of natural stone at a fraction of the price.
The sinks are easily cleaned and maintained with the use of a Scotch Brite pad
The undermount sink is the most practical, because it does not have the rim to hinder wiping and collecting debris. This type of sink cannot be installed on a
laminated countertop
. These sinks install from under the counter, and the sink does have a rim, but it is not visible since it attaches to the bottom of the counter.
Undermount Stainless Steel Sink
Surface or Overmount Sinks
These are the more popular type of sinks, also called drop-in or top-mount sinks. These are sinks that have a visible lip around the perimeter and it rests flat on the counter. The sink drops straights into the countertop cut-out and the lip holds it into place.
Overmount Stainless Steel Sink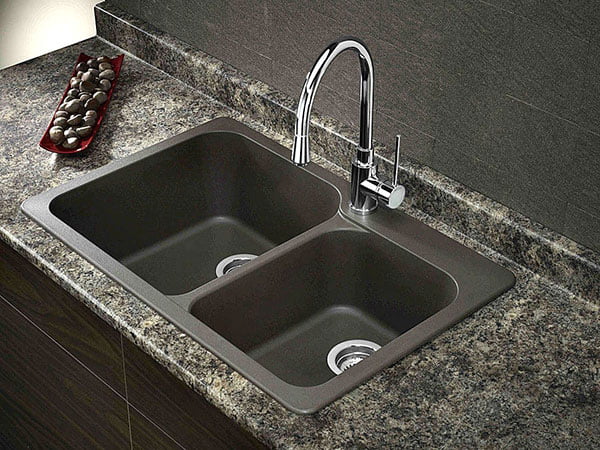 Talk to our professionals for more information on sinks